Top Prices Paid In Wichita
Come to Wichita Material Recovery LLC
624 E Morris Street
Wichita, KS 67211
Monday - Friday: 8AM-4PM Saturday: 8AM-2PM

316-303-9303

HOME

METAL PRICES

COMMUNITY

ABOUT US

CONTACT US 316-303-9303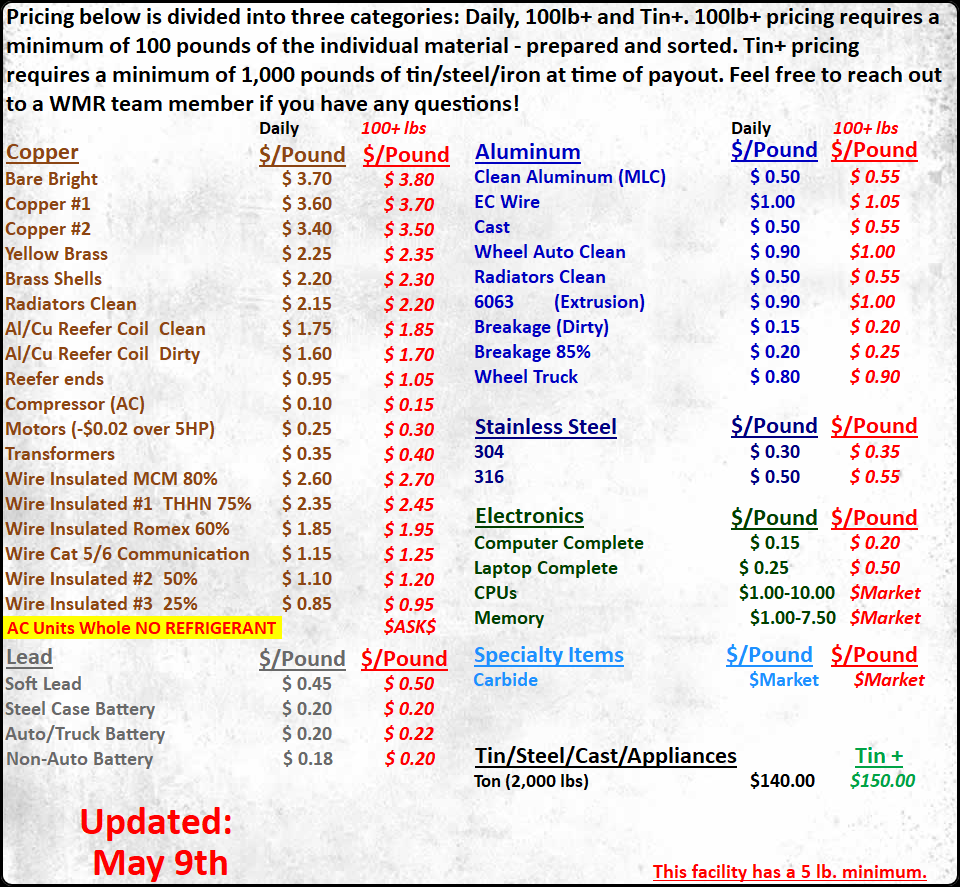 Prices listed above are updated daily. Prices are guaranteed for the day listed.
For commercial or volume pricing, give us a call at 316-303-9303
Wichita Material Recovery is Wichita's most efficient scrap metal recycler. We purchase both ferrous and non-ferrous metals. We recycling appliances, auto and industrial batteries, computers, catalytic converters, and much more! Our experiences staff will assist you in unloading, grade your material, as well as provide guidance on how to receive the best value for your recyclables. We pride ourselves in providing a high level of service and the best value for our customers. WMR purchases materials from individuals as well as businesses and commercial establishments.
BEST PRICES - FRIENDLY SERVICE - CLEAN FACILITY - CONVENIENT LOCATION
WHY SELL YOUR MATERIALS ANYWHERE ELSE?
Wichita Material Recovery - Your friends in the recycling business
---
If you have any questions please call 316-303-9303 or stop by.
Hours of Operation: Monday-Friday 8am-4pm Saturday 8am-2pm

Recycling | Recycle Center | Copper | Aluminum | Catalytic Converters | Brass | Carbide | Alloy | Wire | Tin | Steel

Wichita Material Recovery
(316) 303-9303
624 E Morris Street
Wichita, KS 67211