Top Prices Paid In Wichita
Come to Wichita Material Recovery LLC
624 E Morris Street
Wichita, KS 67211
Monday - Saturday: 8AM-6PM
Click on map for directions
316-303-9303

HOME

METAL PRICES

COMMUNITY

ABOUT US

CONTACT US 316-303-9303
Wichita Material Recovery LLC is Wichita's most efficient scrap metal recycler. We purchase both ferrous and non-ferrous metals, e-scrap, batteries, and more! Also we assist with unloading the materials onto our outdoor scales while our knowledgeable staff will grade the materials. We pay cash right after we are done weighing the metals! We purchase materials from individuals as well as businesses and commercial establishments. Since we do business by volume this guarantees you the highest prices paid!


Call 316-303-9303 for the most up-to-date prices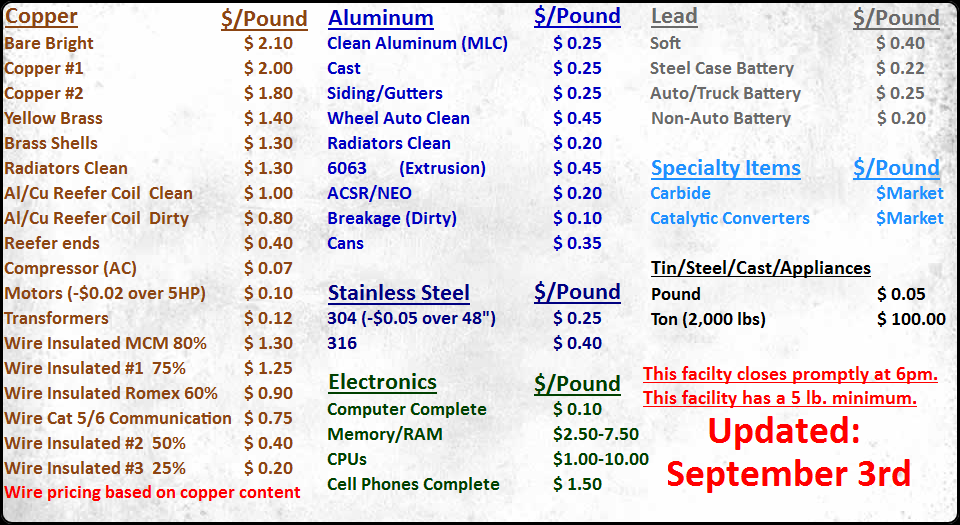 BEST PRICES - FRIENDLY SERVICE - CLEAN FACILITY - CONVIENT LOCATION
WHY SELL YOUR MATERIALS ANYWHERE ELSE?
Wichita Material Recovery - Your friends in the recycling business -
Due to legal, government, and insurance purposes we are unable to accept some items. Wichita Material Recovery LLC is not able to accept the following: Vehicles, glass, radioactive materials.
---
We are now offering pickup service for local surrounding areas!! Call today for a free quote!
If you have any questions, or for up-to-date pricing, please call 316-303-9303 or stop by.
Hours of Operation: Monday-Saturday 8am-6pm

Recycling | Recycle Center | Copper | Aluminum | E-Scrap | E-Waste | Brass | Carbide | Alloy | Wire | Tin | Steel

Wichita Material Recovery
(316) 303-9303
624 E Morris Street
Wichita, KS 67211